About Wagner BMW of Shrewsbury - New 2016-2017 BMW and Used Car Dealership


Wagner BMW of Shrewsbury in greater Shrewsbury is proud to serve Worcester, Harvard, Northbridge, and Southbridge with quality BMW vehicles. With the latest models like the 328i, 535i, X5, 550i and 750, we carry vehicle to fit everyone's need. Come over and visit us at 770 Boston Turnpike and test drive a new BMW or used car. Our customers leave our dealership 100% satisfied with our excellent customer service and our friendly salespeople.
We carry a variety of used cars for you to choose from, all of which have gone through our detailed quality inspection before made available on the lot. We offer financing services so you can get into the new BMW or used car you want without a problem.
We at Wagner BMW of Shrewsbury are not just your greater Shrewsbury BMW dealership, we have a full service repair and body shop so you can get the best care for your new BMW or used car. Whether you need BMW auto repair, scheduled service maintenance or BMW auto parts, we are ready to be your first and only choice for quality work on your car.
Stop by our showroom and see the latest additions to our Shrewsbury area BMW dealership or give us call today!

---
History of Wagner Motors

In 1965, Ronald Wagner opened 
Wagner Motor Sales
 in Boylston. Starting as a used car lot, Ron sold vehicles out of a small shed on his residential property. Earning the AMC dealership in 1976 prompted the need for an official dealership building. In 1980 Ron was offered the 
Mercedes-Benz
 franchise and, given his success with selling high-line vehicles, was invited to represent the 
BMW
 brand in 1988.  In 1994 Wagner Motors grew to include 
Audi 
and Jaguar. Realizing there was a tremendous need for a state-of-the art body shop in Worcester County to deal with the increasing intricacies of repairing technologically advanced vehicles; 
Wagner Certified Collision Center
 on Plantation Street in Worcester was opened in 1987 with 
Wagner Motorsports International
, the Wagner's motorcycle division, joining the Collision Center on Plantation Street in 2006. As each automotive brand expanded, the original property in Boylston was soon beyond capacity and the Wagner family embarked on an extensive, long term relocation plan to move the dealerships to their current home on 
Route 9 in Shrewsbury
.  When the 
KIA
 store, situated next door to the newly purchased Wagner property, became available, the Wagner's quickly saw a unique opportunity to include the fast growing, midline KIA brand to their family of vehicles. Today, the Wagner Auto Group "campus" houses a row of separate buildings on what some now call "the Shrewsbury Auto Mile", all offering a unique and specialized brand of vehicle tied together by the "Wagner" label of good business practices and friendly, welcoming employees who are proud to be a part of the Wagner family.

One phenomenon experienced at Wagner Auto Group, is the number of lifelong employees who began their careers with the company and remain today. Wagner Auto Group now employs close to 400 people. The car business is notorious for its high turnover yet it is not unusual to find sales and office team members who have worked with the Wagner family for 30 or even 40 years! In addition, the Wagner family's longevity of ownership has become unique in the industry. In the last decade most family run dealerships have sold out to large conglomerates that run car dealerships on volume. Not us! The business relationships we have built within Worcester County keep us committed to remaining a family run business well into the future.
Philanthropy
Perhaps our proudest achievements are in the area of philanthropy. From inviting Scout Troops into the shop on a weekend to earn their "Car Care" Badge to hosting charity Galas in one of our beautiful showrooms, we rarely say "no" when approached with a need. Even through times of economic challenge and expansion, the philanthropy budget has grown each year. The list of organizations we support include:
     
Dress for Success Ladies Night Out
Ecotarium
St. John's
Shrewsbury Youth and Family Services
15-40
Worcester Academy
UMASS
Harvey Ball
Pan Mass Challenge
Girl Scout and Cub Scout Troops
And…just about every local town's Little League!
When reflecting on the Wagner Auto Group story, one particular moment in history stands ahead of the others. In 1975 Ron Wagner and fellow American Motors dealers were angry about a congressional vote that made certain automobile options mandatory on vehicles produced in the U.S. including AM/FM radios, radial tires, safety belt ignition interlocks and ignition buzzers. Many consumers saw this as an underhanded way to raise vehicle prices and create more profit for the manufacturer. 
To protest, Ron set up a tent on the roof of the Boylston dealership and vowed to stay up there until he received 30,000 letters. He also sold his entire inventory of AMC vehicles for $1 over invoice. His story was reported in local newspapers around the country as well as The Wall St. Journal, Forbes and Time Magazine.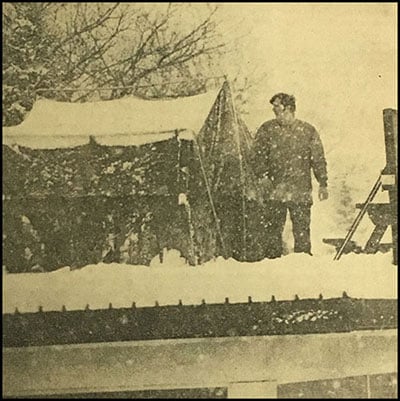 He lasted up there for 12 consecutive days and, when he came down, was invited to meet in Washington with then Senator Edward Brooke as well as Presidential Economic Advisor William Siedman.
Wagner Auto Group, to this day, is a staple in the Shrewsbury community and surrounding communities. With the support of the long lasting employees, loyal customers, and figures in the community, Wagner Auto Group will continue to thrive.
---
Wagner BMW of Shrewsbury
Local
Car dealer
Selling New
BMW
and Used Cars.
Serving:
Shrewsbury
,
Worcester
,
Harvard
,
Southbridge
,
Northbridge
.
Directions
Local Phone:
(508) 581-5500
770 Boston Turnpike
Shrewbury,
MA
01545